Russian leader Vladimir Putin has agreed to open a sea route for Ukraine's food exports, the Indonesian President said on Friday, in a move to sustain the food supply chain amid Moscow's ongoing invasion of Ukraine.
Indonesian President Joko Widodo met with Putin in Moscow just a day after meeting Ukraine's President Volodymyr Zelenskyy in Kyiv on June 29, as he was offered to become "a communication bridge" between the two leaders.
During his meeting with Putin, Widodo discussed the disruption in the food and fertilizer supply chain and how it will impact hundreds of millions of people worldwide, particularly in developing countries.
"I really appreciate President Putin, who said that he would guarantee the security of food and fertilizer supplies from both Ukraine and Russia. This is good news," he was quoted as saying by the Foreign Ministry.
Widodo said he supported the United Nations' efforts to reintegrate food and fertilizer products from Russia and Ukraine into the global supply chains, including the plan to reopen a sea route for Ukrainian food exports.
"Specifically for the export route for Ukrainian food products, especially through the sea route, President Putin has already given his guarantee," he remarked.
Russia Blames Western Sanctions
Putin rejected any notion that his country was responsible for the disruption in the global food supply chain due to the Ukraine war, instead blaming Western sanctions imposed against his country, which had impeded Russian exports.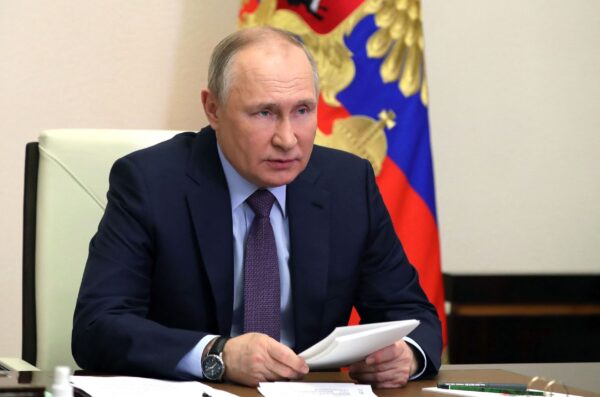 Russia has been subjected to a barrage of Western sanctions since its invasion of Ukraine in February, including being blocked from the international financial messaging system SWIFT. Moscow retaliated by imposing export bans on its products.
in a statements, Putin said the disruption in the food supply chain is "a direct consequence of the long-standing irresponsible macroeconomic policy of some states, uncontrolled issuance, and the accumulation of unsecured debt."
"However, instead of admitting that their economic policies were misguided, the Western countries are further destabilizing global agricultural production by imposing restrictions on Russian and Belarusian fertilizer supplies, impeding exports of Russian grain to world markets."
Russia is one of the world's top food producers and exporters, exporting more than 43 million tonnes of grain and 33 million tonnes of wheat to 161 countries last year, the Russian leader said.
Putin said that his country is prepared "to meet the demand of agricultural producers in Indonesia and other friendly countries for nitrogen, phosphorous, potassium fertilizers, and [other] raw materials for their production."
Looming Food Crisis
The Food and Agriculture Organization of the United Nations (FAO) and the United Nations World Food Program (WFP) has been warned of multiple looming food crises prompted by Russia's invasion of Ukraine, climate shocks, and the lingering impacts of the COVID-19 pandemic.
In a June 7 report (pdf) titled "Hunger Hotspots – FAO-WFP early warnings on acute food insecurity," the organizations said that acute food insecurity is likely to "deteriorate further" in 20 nations across the globe between now and September 2022, and called for urgent humanitarian action.
Additionally, 49 million people in 46 countries throughout the world may be facing famine or famine-like conditions unless they receive "immediate life and livelihoods-saving assistance," the organizations said.
Along with recurring climate shocks like droughts, flooding, and hurricanes impacting farming and livestock, and direct macroeconomic conditions in some countries in the wake of the COVID-19 pandemic, the global fallout of the Russia–Ukraine conflict is further exacerbating conditions in some nations , according to the report.
Meanwhile, increasing energy costs—another side effect of the ongoing military conflict in Ukraine—and massive public debt burdens are further worsening the situation in many nations.
"We are deeply concerned about the combined impacts of overlapping crises jeopardizing people's ability to produce and access foods, pushing millions more into extreme levels of acute food insecurity," said FAO Director General Qu Dongyu.
Katabella Roberts contributed to this report.